Exploring Australia's east coast islands
Description
Departure Date: 7 December 2022
Exploring Australia's East Coast Islands
Allow yourself to fall under the spell of this itinerary in Australia that has been specially designed for travellers looking for unspoiled islands and turquoise lagoons. You will set sail aboard Le Lapérouse for an 10-day expedition cruise with PONANT to discover the treasures of the Great Barrier Reef.
Starting in Cairns, the gateway to the Great Barrier Reef, set sail towards Willis Islets in the Coral Sea Territories featuring not less than 30 separate reefs along with the spectacular Coral Sea Marine Park, as well as Willis Island where a monitoring station was established in 1921 to provide cylclone early warnings services to Queensland.
Lying some 50 km to the north-east of the Whitsunday Islands, you will reach Hardy Reef, which boasts the unique marine biodiversity of the area.
You will continue your exploration of the Australian coast with the discovery of Percy Island, whose shallow waters beckon you in for a dip, and Lady Musgrave Island, which is ideal for snorkelling. Both are located in the heart of the Great Barrier Reef, a gigantic ecosystem of coral reefs.
Your next call will be the Hawkesbury River region in New South Wales, famous for its colourful cliffs and historic townships, and join your expedition team to explore the area in our fleet of Zodiac®.
The end of your cruise will be marked by a disembarkation in the irresistible city of Sydney.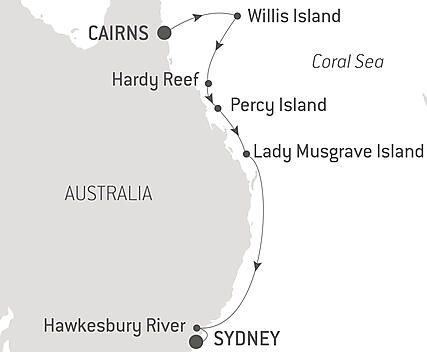 ---
Highlights include;
Zodiac® shore visits with your expedition team.
Many opportunities for swimming, snorkelling and relaxation on unspoiled islands, with white sand beaches and crystal clear water.
View the remote Willis Islets and their associated cays.
From Hardy Reef, the possibility to observe some of the world's most beautiful coral reefs and diverse undersea life.
Relax on the picture perfect Percy Island.
After your voyage, possibility to discover Sydney & the Blue Mountains.
Gain an insight into the incredible biodiversity and natural heritage of the region from your expert naturalist team.
---
Your ship: Le Laperouse
Environmentally friendly, fitted with innovative equipment and complete with lounges designed to be largely open to the exterior, this new and intimately sized yacht offers a unique type of cruise experience.
Onboard this ship sailing under the French flag, you'll experience the incomparable pleasure of a cosily intimate cruise offering the possibility of exploring an ever-increasing range of destinations in an ethnic chic ambiance and with five-star service.
The Blue Eye, a multisensorial underwater lounge offering a unique experience unlike anything else in the world.
Itinerary Overview
Day1: Cairns
Day2: Willis Island, Coral Sea Territory
Day 3: At sea
Day 4: Hardy Reef
Day 5: Percy Island
Day 6: Lady Musgrave Island
Day 7: At sea
Day 8: At sea
Day 9: Hawkesbury River
Day 10: Sydney
Terms & Conditions
* Conditions apply. Offer is limited, subject to availability and change without notice. Promotion is correct and valid at the time of publication. Booking and full supplier terms and conditions apply. Valid for new bookings only and not combinable with any other offer (unless stated).
Pricing is per person based on twin share occupancy unless stated otherwise. Although all due care is taken to keep information as up-to-date as possible, pricing and availability are subject to change without notice: due to varying timing schedules of supplier automated update processes; currency fluctuations; fuel surcharges or government tax & fee changes and may not be guaranteed until paid in full. Gratuities may be an additional onboard charge depending on particular cruise line selected. Please ask your cruise consultant for any clarification of Terms & Conditions.