CAPE YORK & ARNHEM LAND
| | | |
| --- | --- | --- |
| from | AU$11,990 | per person |
Duration: 10 Nights
Destination: Australia
Deal Code: DCKNBBN
Description
Departure Date: 3 April 2022
Our expedition across the Tip of Australia offers an immersion into the diverse and ancient Indigenous cultures of remote Cape York, Arnhem Land and the Torres Strait Islands.
On this small ship voyage into prehistoric landscapes, learn about the song-lines and lore that shaped these ancient cultures, allowing your expert guides to interpret your surroundings including the world's oldest rock art that shows depictions of extinct animals and tells that stories of seafarers long before British colonisation. You will learn how generations have passed down artistic traditions, and how this important cultural legacy is flourishing at world-renown art centres in Yirrkala and Nhulunbuy. Watch Elders share their story through art at Maningrida before sailing to secluded Lizard Island where you will snorkel in azure waters over giant clam gardens and stroll over the white sand beaches of Watsons Bay before taking a tour of Australia Museum's Lizard Island Research Station, globally recognised as a world-leading research facility on the Great Barrier Reef.
The Cape York and Arnhem Land expedition is a fascinating tapestry that immerses keen explorers in the very best of Australia's northern coastline.
Guests onboard will explore some of the finest locations of the World Heritage-listed Great Barrier Reef, enjoy sunrise at the very 'Tip of Australia' at Cape York, before venturing into the remote Arnhem Land Coast and the rarely visited Tiwi Islands. Join us aboard Coral Discoverer in Cairns for a remarkable 11-night voyage of discovery to Darwin, visiting otherwise inaccessible locations and developing a rich understanding of the culture of the traditional owners of the Torres Strait and Arnhem Land.
At the start of your expedition, choose to swim and snorkel in the clear tropical waters of the Great Barrier Reef. Explore the northern reef and tour the fascinating Lizard Island Research Station to learn how scientists are preserving the reef for future generations. Savour a glass of champagne as the sun rises over the northern 'Tip of Australia' on Cape York Peninsula and discover the fascinating history of the Torres Strait Islands.
As you travel west, you'll meet artists who have exhibited in galleries around the world, and visit remote art centres. You'll learn of the Macassan sailors of the 17th century as we cruise the Arnhem Land coast, and experience the warm hospitality of the rarely-visited Tiwi Islanders as they share their ancient culture and traditional lifestyles with us.
Expedition highlights:
Be immersed in the world's oldest surviving culture in Arnhem Land
Spend a full day exploring the rugged Cobourg Peninsula for historical ruins and fascinating wildlife
With a local guide, visit the remote and culturally rich Tiwi Islands
Learn about Indigenous art at Elcho Island and Maningrida Art Centres
Stand on the very tip of Australia at Cape York for a champagne sunrise
Visit Thursday Island and learn about the cultures of the Torres Strait
Explore Lizard Island and the northern reaches of the Great Barrier Reef
Discover the Arnhem Land coast, once the trading ground of the Macassan people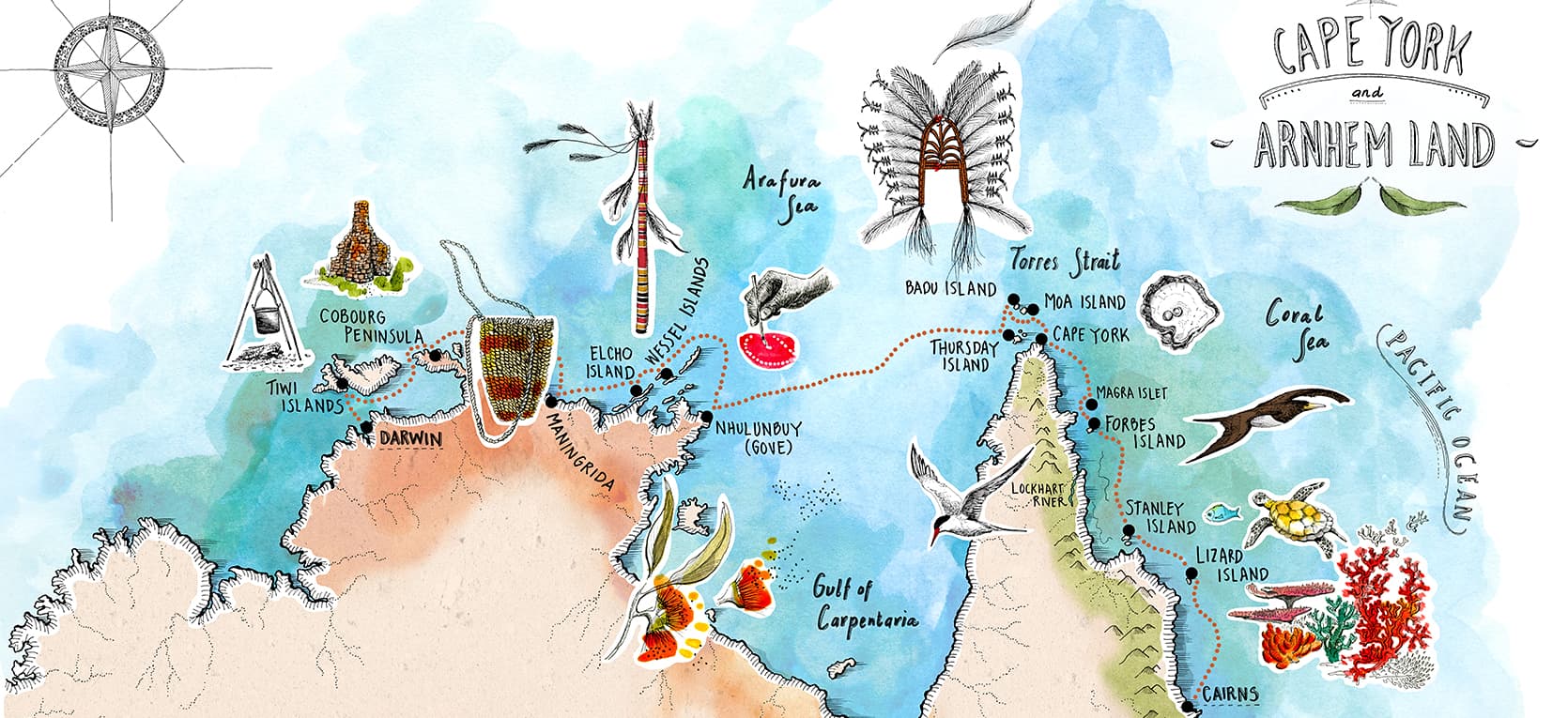 Itinerary Overview
Cairns, Lizard Island, Flinders Group and Davie Reef, Forbes Island, Northernmost Point: Cape York, The Torres Strait Islands, Cruising the Gilf og Carpentaria, Hole in the wall & Wessel Islands, Elcho Island: Galiwin'ku and Gawa, Maningrida, Cobourg Peninsula, Tiwi Islands, Darwin
Terms & Conditions
* Conditions apply. Offer is limited, subject to availability and change without notice. Promotion is correct and valid at the time of publication. Booking and full supplier terms and conditions apply. Valid for new bookings only and not combinable with any other offer (unless stated).
Pricing is per person based on twin share occupancy unless stated otherwise. Although all due care is taken to keep information as up-to-date as possible, pricing and availability are subject to change without notice: due to varying timing schedules of supplier automated update processes; currency fluctuations; fuel surcharges or government tax & fee changes and may not be guaranteed until paid in full. Gratuities may be an additional onboard charge depending on particular cruise line selected. Please ask your cruise consultant for any clarification of Terms & Conditions.